24-Hour Emergency Towing and Roadside Assistance
Tom & Ed's Autobody and Towing provides Northwest Indiana and the Chicagoland area with all their towing needs!
24 Hour Towing
Flatbed Towing
Emergency Roadside Assistance
Tire Changes
Gas Delivery (out of gas)
Lock Outs (all types of vehicles)
Jump Starts
Winching
Free Abandoned Vehicle Removal
Towing Coupon & Discounts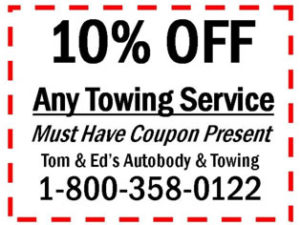 To receive or schedule any vehicle service or tow simply dial
1-800-358-0122
Commercial Accounts Welcome
Unauthorized parked vehicles? let us tow them at no charge to the business owner! We offer free lot patrol of your facility and lots. Unauthorized vehicles will be towed from private property at zero expense to the owner of private property. This contract simply gives Tom & Ed's Autobody access and/or permission to private property to remove any unmarked and/or unauthorized vehicle from premise at vehicle owner's expense.
Let us put one of our authorized towing signs at your business and tow away any unwanted vehicles.